How we work
Community partnership
Healthy Youth Central Area Network is funded by the Washington State Division of Behavorial Health and Recovery (DBHR) and its CPWI (Community Prevention and Wellness Initiative). CPWI is a partnership of state agencies, counties, schools and local prevention coalitions supporting communties in preventing alcohol and other drug abuse and its negative consequences.
Monitored by the King County Department of Health and Human Services Alcohol and Other Drug Prevention Programs, Healthy Youth CAN's funding is allocated for school-based Prevention-Intervention Services at Garfield High and Meany & Washington Middle Schools. Additionally, efforts are directed toward other youth residing or attending school in the target area. Efforts are also directed toward community-building and asset development in neighborhoods, partnering with organizations, events and programs that have similar goals.
What we do
Evidence-based & innovative prevention programs
Community Building

Engagement Activities

Training

Youth Prosocial Activities

Evidence Based Programming

Parent/Guardian Education

Social Norms Media Campaigns
Programs
Innovative pro-social activities are offered, including public art murals in Central Seattle neighborhoods, an after-school Hip Hop dance class, and opportunities for youth and Coalition members to attend conferences and trainings.
Healthy Youth CAN also partners with community activities and organizations, such as the Central Area Neighborhood District Council, Seattle Police Department East Precinct on Night Out Against Crime, the East Precinct Picnic and the East Precinct and African American Advisory Councils.
RISK ASSESSMENT
Youth and community surveys have revealed priority risk and protective factors in the Central Area.

Individual Risk Factors include:
Intentions to Use

Academic Failure

Perceived Risk of Drug Use

Friends' Use of Drugs

Favorable Attitudes towards Drug Use
Community Risk Factors:
Perceived availability of Drugs

Community Laws and Norms Favorable to Drug Use

Low Community Attachment
Family Risk Factors:
Poor Family Management

Favorable Attitudes towards Drug Use
Protective Factors include:
Opportunities for Prosocial Involvement in the School

Opportunities for Prosocial Involvement in the Community

Rewards for Prosocial Involvement in the School
Using Evidence-Based Programming and Practices, Healthy Youth Central Area Network selected the following programs for prevention and intervention strategies for our target population:
Hip-Hop 2 Prevent Substance Abuse and HIV (H2P) is designed to improve knowledge and skills related to drugs and HIV/AIDS among youth ages 12-16 with the aim of preventing or reducing their substance use and risky sexual activity. The program incorporates aspects of hip-hop culture including language, arts, and history as a social, cultural, and contextual framework for addressing substance use and HIV risk behaviors. H2P uses a curriculum consisting of 10 modules, called "ciphers" delivered in ten 2-hour sessions.
Through the curriculum's use of Hip-Hop culture Washington Middle School Students learn DJ skills, microphone techniques and beat making. Students learn information about drugs, HIV/AIDS, and sexual behavior; resistance and refusal skills; effective communication and negotiation skills; information about healthy alternatives to sex and drugs; and prevention self-efficacy skills. Teaching artists participate in a 1-day training on the genesis, ideology, and cultural components of Hip-Hop.
Life Skills Training
Consistent with this theoretical framework Life Skills Training, LST addresses multiple risk and protective factors and teaches personal and social skills that build resilience and help youth navigate developmental tasks, including the skills necessary to understand and resist pro-drug influences. LST is designed to provide information relevant to the important life transitions that adolescents and young teens face, using culturally sensitive and developmentally and age-appropriate language and content. Facilitated discussion, structured small group activities, and role-playing scenarios are used to stimulate participation and promote the acquisition of skills. Separate LST programs are offered for elementary school (grades 3-6), middle school (grades 6-9), and high school (grades 9-12); the research studies and outcomes reviewed for this summary involved middle school students.
Project Alert
Project ALERT is a school-based prevention program for middle or junior high school students that focuses on alcohol, tobacco, and marijuana use. It seeks to prevent adolescent nonusers from experimenting with these drugs, and to prevent youths who are already experimenting from becoming more regular users or abusers. Based on the social influence model of prevention, the program is designed to help motivate young people to avoid using drugs and to teach them the skills they need to understand and resist pro-drug social influences. The curriculum is comprised of 11 lessons in the first year and 3 lessons in the second year. Lessons involve small-group activities, question-and-answer sessions, role-playing, and the rehearsal of new skills to stimulate students' interest and participation. The content focuses on helping students understand the consequences of drug use, recognize the benefits of non-use, build norms against use, and identify and resist pro-drug pressures.
Positive social norms messaging on billboards in the community. Students at Garfield High School collaborated with Healthy Youth Central Area Network to come up with the WE ARE AUTHENTIC campaign.
Parent-oriented Messaging
Social Norms Campaign
Spring 2017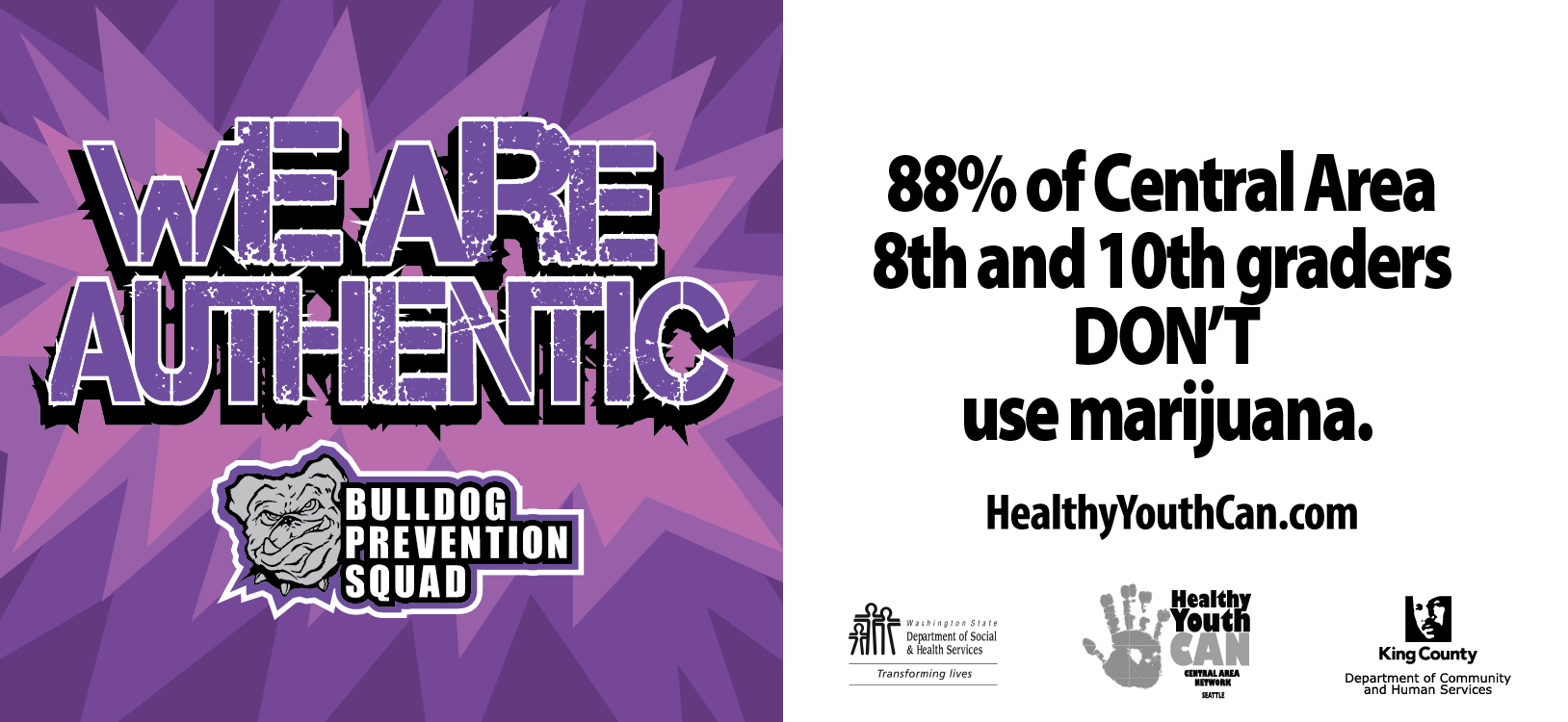 Social Norms Campaign
Spring 2018
*See graph below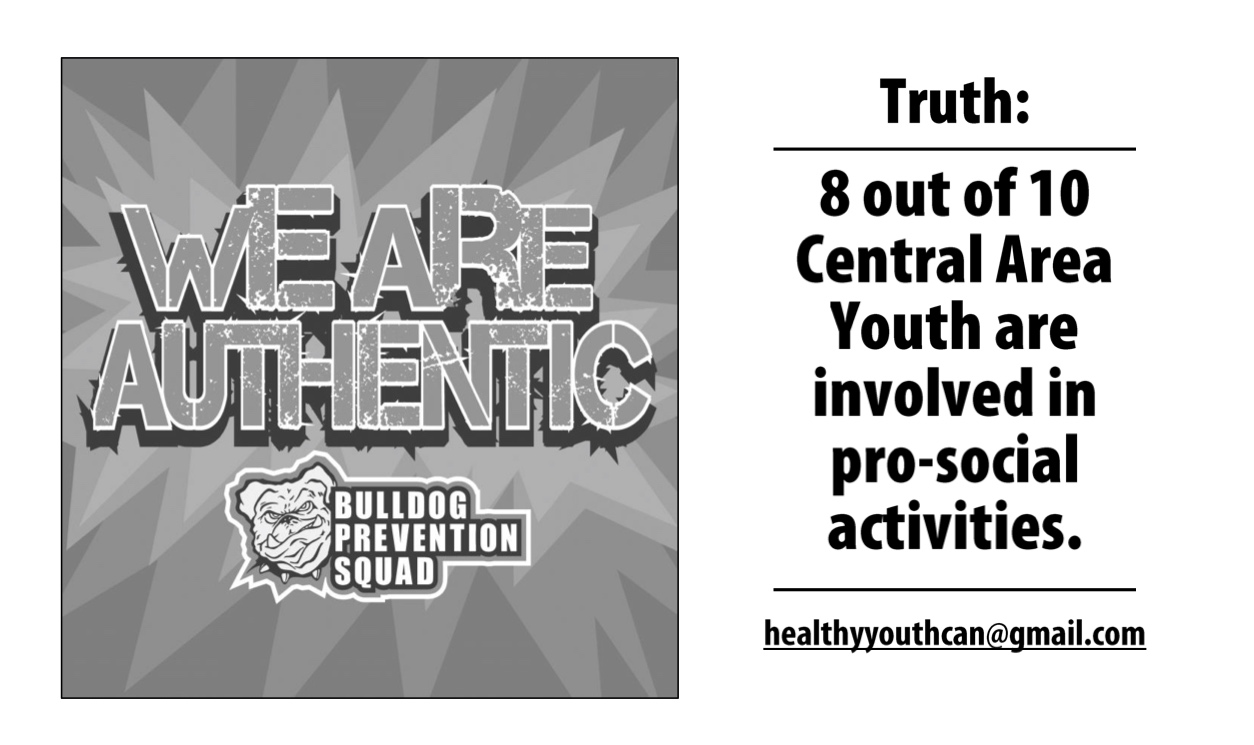 Postcard Mailing
Spring 2018